Dives right into the nitty gritty of science, loss ,and faith, and delivers a charming, quirky, human and, at times, macabre, film.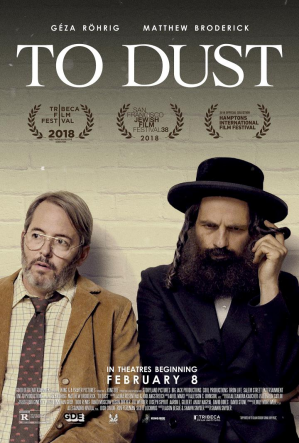 Spread the word about this film!
NO LONGER PLAYING
To Dust
Grieving the recent death of his wife, Shmuel (Géza Rohrïg), decides that, in order to move on, he must understand the science behind the decomposition process of his wife's body—despite the blasphemy inherent in any scientific inquiry. To assist his sinful pursuit, he seeks out Albert (Matthew Broderick), a community-college biology professor who Shmuel enlists to teach informal science lessons. These soon grow to include homemade experiments and a road trip to a body farm, and, as their macabre misadventures and unlikely friendship grow ever more peculiar, the odd couple prove they will stop at nothing to satiate their curiosity and, ultimately find Shmuel the peace he seeks.

Runtime: 92 min
Language: English
FEATURED REVIEW: Mark Dujsik RogerEbert.com
Some thoughts are nearly impossible to shake, especially for those of a certain mindset and/or under certain circumstances. For Shmuel (Géza Röhrig), it's the thought of his recently deceased wife's decomposing corpse. She died of cancer, and now, the widower, a Hasidic J...